DEWEY SORIANO

One of Callow's favorite yarns is about Dewey Soriano of Seattle's illustrious sports dynasty. (Dewey and Max Soriano later owned the Seattle Pilots.)

In 1939 Dewey was an eager, 19-year-old relief pitcher for the Seattle Rainiers, dying to start in a game. He talked his way to the mound where he teamed with catcher Gilly Campbell.

Wham! The first batter knocked the opening pitch into right field for a single. Whack! The second pitch went through center field. Then batter Andy Pafko (who later made it to the majors) whacked the third pitch out of the park.

"Gilly!," the team manager yelled, running up to the catcher. "Has Dewey got any stuff on the ball? Is he going to be any good?"

"I don't know," Campbell reportedly replied. "I haven't caught one yet."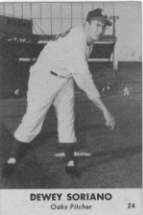 seattletimes.com: Baseball figure Dewey Soriano dies at age 78



Posted at 12:17 p.m. PDT; Monday, April 6, 1998


Baseball figure Dewey Soriano dies at age 78

by Dave Birkland
Seattle Times staff reporter



Dewey Soriano, who is inexorably linked with Seattle's baseball history, died today at age 78 in a South Seattle nursing home. Soriano had been president of the Pacific Coast League in the mid-1960s.

Mr. Soriano was instrumental in bringing major-league baseball to Seattle for the first time in 1969, when the Seattle Pilots played a single season before moving the following year to Milwaukee, where the team was renamed the Brewers.

The Seattle Pilots was an ill-fated franchise. The city of Seattle promised to expand Sick's Stadium from 14,933 to 25,000 seats for the opening game in April 1969. But the expansion fell behind, and the new seats were not in place until June.

"When the season opened, we had season tickets printed for all 25,000, but couldn't sell them because they didn't exist," Mr. Soriano said in recalling the event years later.

Baseball was an early love for Mr. Soriano. As a child, he sold peanuts when the Seattle Rainiers played in the Pacific Coast League, and he later pitched for Franklin High School.

Mr. Soriano was a contemporary of Fred Hutchinson at Franklin. Both were successful pitchers, and both went on to professional baseball careers.

Mr. Soriano pitched for the Rainiers in the early 1940s, and later for the San Francisco Seals.

In 1948, Mr. Soriano borrowed $15,000 from his brothers to buy the Yakima Bears baseball team of the Western International League. He was a pitcher for the team as well as its president and general manager.

After he left baseball in 1951, Mr. Soriano joined the Merchant Marine and later became a pilot for ships entering and departing Puget Sound. That job also got some headlines for Mr. Soriano.

In 1982, a freighter carrying automobiles crashed into the Blair Bridge in Tacoma while being piloted by Mr. Soriano. And in 1967, a ship he was piloting hit a rock off Smith Island, north of Everett. The Coast Guard suspended his license for that incident, but it was reinstated when the 9th Circuit Court of Appeals ruled the agency had overstepped its authority.

For the past several years, Mr. Soriano has suffered a form of dementia and has been in a nursing home, his daughter, Cathi Soriano, said today.

Besides Cathi Soriano, he is survived by another daughter, Kay Soriano of Seattle, and a son, Gary Soriano of Bellevue; brothers Amigo, Milton and Max Soriano, all of Seattle, and Rupert Soriano of Bellevue; and sisters Charlotte Paulson of Renton and Gloria Soriano of Seattle.